Ranine Ghamrawi, MD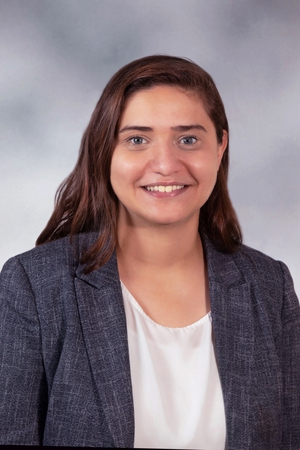 EDUCATION
Lebanese university faculty of medical sciences, Beirut, lebanon , M.D, 2014.
AWARDS / DESIGNATIONS
Board certified in Nephrology and hypertension , 2021.
Board certified in internal medicine, 2018.
Winner of the Shark Tank competition in the NBLU .       08/2020
Nominated for the Mayo Clinic 2020 Angela and Anne V. Marinelli Endowed Fellowship award-04/2020.
Recipient of the Mayo International Health Program Scholarship Award - Global health –Nepal- 12/2018.
Michigan State University- 18 th annual research forum- Best Resident Oral Study Presentation-05/2016.
POSITIONS / APPOINTMENTS
Nephrology and Hypertension Fellowship, Mayo Clinic,  Rochester, MN 2018-2021.
Internal Medicine Internship and Residency, Hurley Medical Center/ Michigan State University, Flint, MI, 2015-2018.
Preliminary- Internal medicine internship, Lebanese university Faculty of medical sciences, Beirut, Lebanon,2014-2015.
MEMBERSHIPS
American Society of Nephrology.
American Board of Internal Medicine
National kidney foundation
International society of nephrology 
American college of physicians 
AREAS OF INTEREST
Women's health/ hypertensive disorders of pregnancy/eclampsia/ preeclampsia 
Onco -nephrology 
Polycystic kidney disease
Glomerulonephritis- Iga nephropathy etc…
Kidney stones
EDITORIAL RESPONSIBILITIES
Ad-hoc reviewer: Hypertension in Pregnancy – 2019- present.
INSTITUTIONAL/DEPARTMENTAL ADMINISTRATIVE RESPONSIBILITIES
Nephrology and Hypertension Research Committee                           2019-2020                 Mayo Clinic              
Nephrology and Hypertension Educational Committee, Mayo clinic.     2019-2020
LANGUAGES SPOKEN
English
Arabic
French
Italian
OFFICE LOCATIONS
DIALYSIS LOCATIONS